EVIA
A MAGICAL PLACE

Evia is located along the east coast of mainland Greece, not far from Athens. Certainly, Evia – often mistaken as part of the mainland because it is connected by a bridge – holds the whole of Greece within its shores. Most noteworthy, it is said that Evia is one of the "secret" islands that us Greeks seem to keep for ourselves. Only 138km away from Athens.
In general, a less-touristy, and more of a "Greek" experience island.
Our resort, is located along the east coast of central Evia , in a small authentic village named Agioi Apostoloi. It is a place that brings calm and joy to the demanding traveler with numerous wild beaches around and great seafood. Whether you enjoy a relaxing stay by the sea, or looking to enjoy hiking routs of Demosaris George or climbing Mt Ohi, Niovi will be the ideal place to go back to rest!
EXOTIC BEACHES
WILD BEAUTY & CRYSTAL BLUE WATERS

Not very far from our property, are located numerous exotic beaches that you can explore. If you are interested in enjoying a cocktail on a sunbed next to the sea, or exploring the wild beauty of small beaches around the area, we have it all ! Do not hesitate to ask us information about them upon your arrival.
KLIMAKI

A beach with clear blue waters and white sand, that feels like a small paradise. It is the ideal place for families, with natural shade, easy accessible and due to its morphology there is hardly ever bad weather. There you will also find a beach bar with sunbeds and umbrellas, where you could have a quick bite and enjoy a cocktail.
Point of reference of the beach is a charming tavern, that is located on top of the beach. Unique moments of relaxation and good food, including fresh fish from local fishermen, good wine and a magical area with view across the beach.
Distance: 2 Km
MAGEIRAS

The combination of the rocky scenery and white sand makes this splendid small beach a natural landscape of wild beauty. Even during the high season, you will not find this beach over-populated.
Distance 5 Km
KAKOLIMANO

One of the most famous beaches in the area, mainly because the norther winds do not affect this beach and due to the natural shade from the trees. Great for swimming and snorkeling, and ideal for families.
Worth mentioning is the Kakolimano Beach Bar, located right on top of the beach, where you can have enjoy a local bite and a very cold beer, gazing at the endless blue of the Aegean sea.
Distance 1 Km
CHERÓMYLOS

An exotic vibe, sparkling blue waters and white pebbles, are the three characteristics of Cheromylos Beach. A beautiful beach, with a landscape that will take all your winter worries away!
There you will also find a Cantine with sunbeds and umbrellas where you could enjoy a beer and a traditional wrap!
However, norther wind do shake a lot of this beach, and as usual during the summer months of July and August, this beach would not be very ideal for families with kids due to the waves.
Distance: 3 Km
LIMNIONA

Just under our property there is a little beach, surrounded by trees for a natural respite from the sun. You will most probably never witness this beach with waves, as the weather does not affect it. That is why it is ideal for families with small children.
P.S. We have also been dreaming about that slide, that would take you directly from your balcony into the sea !
Distance: A step away
LIANI AMMOS

Due to its fine grained sand, and the wild rocky hillsides this beach is a gem when you find it. Around it you will find other smaller beaches where you might find some privacy and a little paradise to respite from your winter worries.
Approximately 500 meters prior to arriving to this beach, you will also find Liani Ammos Tavern, where you will be able to taste local fresh fish, and some local wine while gazing at the Kamila ( camel ), a small island located opposite of our village.
When you are at the beach, about to dive, you might get impressed by the long walk you need to take in order for the sea level to reach you belly button!
Distance 3 Km
NIGHTLIFE
ENJOY THE CALM OF THE SEA

Enjoy some wine with your favourite people, sitting on the bay of Agioi Apostoloi beach on calm night by the sea.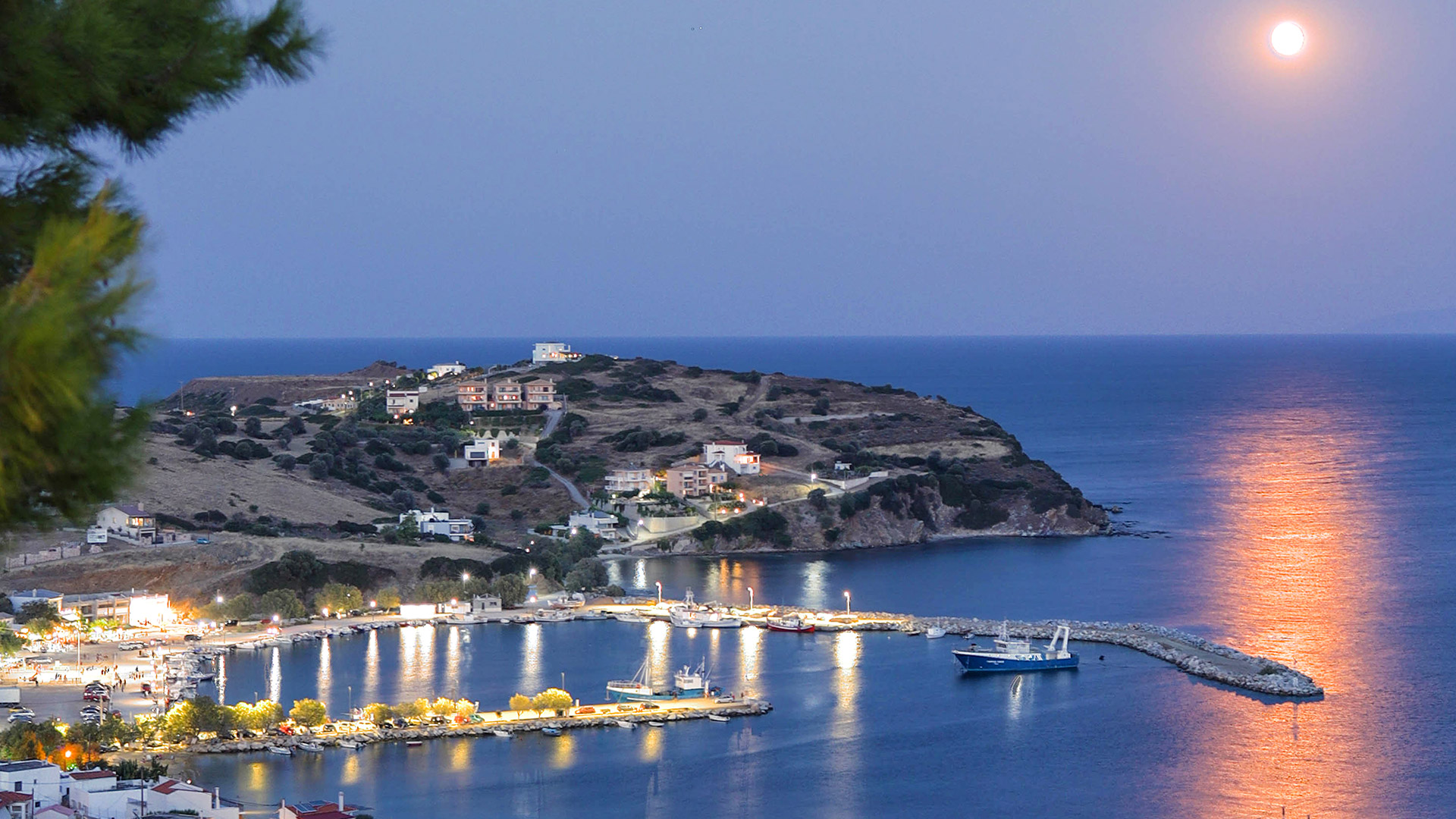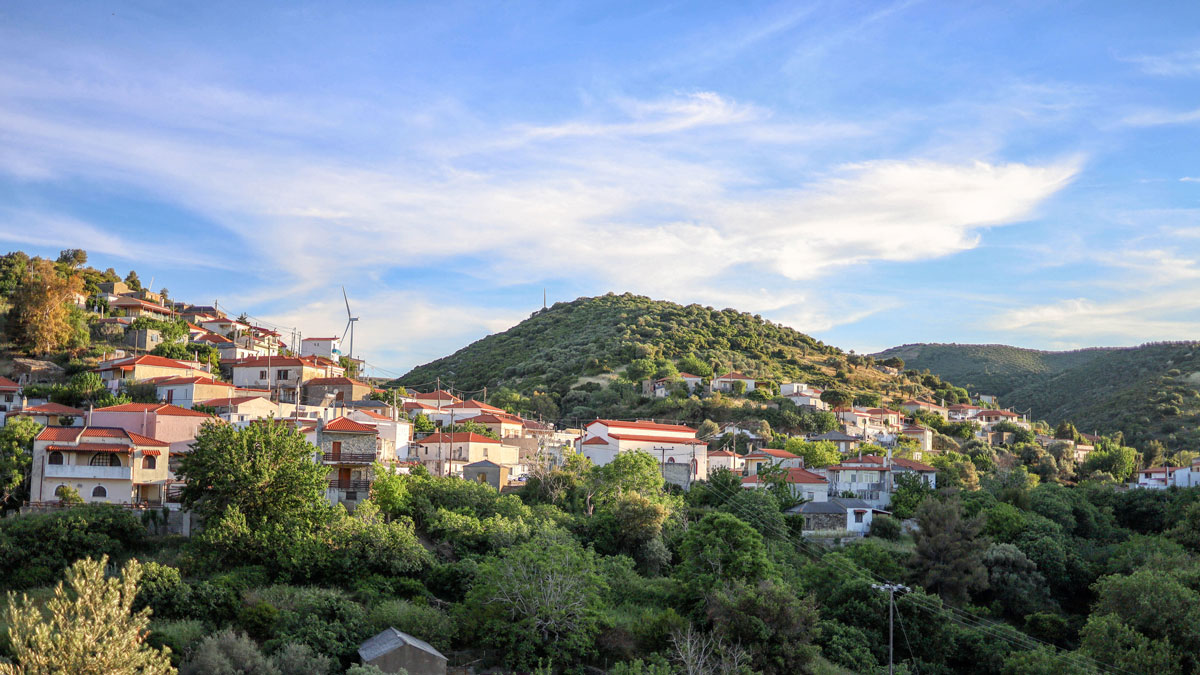 PETRIA
THE OLD VILLAGE

There you will enjoy traditional tastes of the area and very good wine, under the old plane tree of the village. You will walk in the narrow alleys of the village and you will find a special bar Glam-mouria to drink cocktails and have a good time with your friends.